Merger Announcement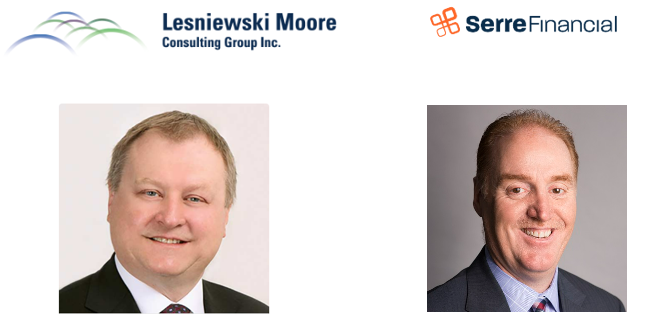 Mark Lesniewski                                                            Dennis Serre
Mark Lesniewski of Lesniewski Moore Consulting Group Inc. and Dennis Serre of Serre Financial Group of Companies are pleased to announce the merger of their retirement and actuarial practices, consisting primarily of IPPs and RCAs.  Services will be provided under the Lesniewski Moore Administration Group Inc. (LMA Group) brand, effective December 1, 2022.
What does this mean for legacy Serre Financial Clients?
Business as usual!  According to Mr. Serre: "We feel that LMC Group is an exceptional fit, and a natural evolution of our business.  We are looking forward to working with LMC Group to provide an expanded range of professional services to our valued clients".
What does this mean for legacy LMC Group Clients?
Business as usual – but new and improved!  According to Mr. Lesniewski: "On the surface, legacy LMC Group clients will see little change.  But LMC Group is pleased to announce that due to this merger, we will be adopting an enhanced software application developed by Serre Financial Group – a single, unified platform to seamlessly deliver administrative and actuarial services to all of our clients."
Looking forward…
Serre Financial and LMC Group have collaborated on several initiatives in the past.  With this announcement, this collaboration has entered a new phase.  Both firms are eagerly exploring additional areas of collaboration, to the benefit of our respective clients.